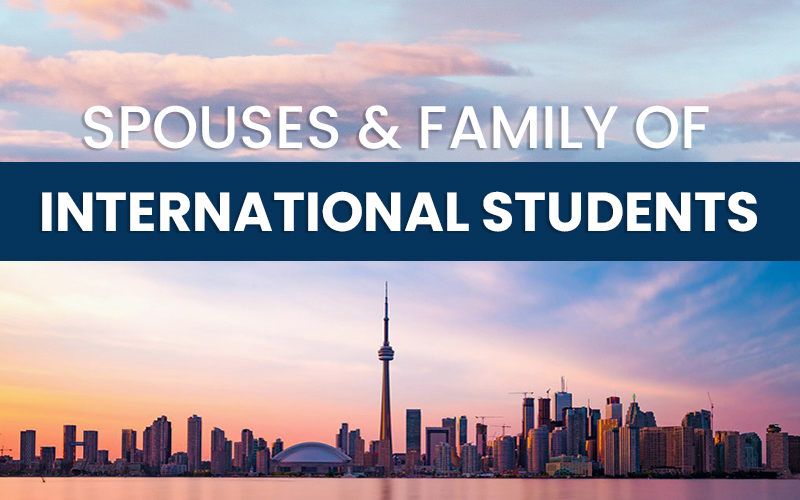 Spouses and Family of International Students
Canada offers a great number of opportunities to foreign internationals – from making a career working with multinational companies to starting your own business or taking over an existing business. Apart from that, the country also offers access to many world-class and renowned educational institutions where you can pursue higher studies in a variety of fields to gain specialization. Once you complete your higher studies, you can apply for a Canadian work permit to continue staying in Canada to pursue a career. 
To ensure that foreign nationals studying and working in the country enjoy a beneficial stay, the government of Canada extends some benefits to their spouses, common-law partners and dependent children. One such advantage is the spousal open work permit. This is an open work permit that allows the spouses or common-law partners of international students with a valid study permit to work in Canada for a limited time period.
As Regulated Canadian Immigration Consultants (RCIC), beingcanada.com by Sayal Immigration Inc. offers comprehensive services to those harbouring the Canadian dream. Book a session with us to get your evaluation done. We offer customized immigration services. Whether you need assistance with your study permit or an open work permit for your spouse, we are here to guide you.
Spousal Open Work Permit to Canada
Your spouse or common-law partner can apply for a spouse work visa if you have a valid study permit. With this open work permit, your spouse will be able to take up employment with any Canadian employer, in any province. However, it's important to note that the duration will match the duration of your study permit.
In your study permit application, you can also include your dependent children. They will be eligible for a dependent visa if the child is below the age of 22 years and not in a marriage or common-law partnership. They also need to go through a medical exam. 
As the primary applicant, you will be financially responsible for them and must provide proof of the minimum required funds as required by Immigration, Refugees and Citizenship Canada (IRCC) rules. Once they receive the dependent visa, they can then accompany you and your 
partner and pursue education up to the secondary level in the country.
Eligibility Criteria for the Study Permit
Before you apply for an open work permit in Canada for a spouse, you must secure a study permit. Here are the eligibility criteria: 
Secure a letter of acceptance from a Designated Learning Institution (DLI) in Canada. A DLI is an educational institution in Canada that is authorized by the government to host international students. Once you get the acceptance letter, you can apply to IRCC for a study permit.

Submit proof of funds to prove you have adequate funds to pay for your tuition fees; living expenses and return travel for yourself and any family members who accompany you to Canada e.g. spouse and children on

spouse Visa

and

dependent visa

respectively.

A medical certificate to prove you are of sound help.
To know more about a study visa, get in touch with a consultant at beingcanada.com by Sayal Immigration Inc. 
Eligibility Criteria for Spouse Open Work Permit
Your spouse or common-law partner will be eligible to apply for an open work permit if you meet the following eligibility criteria::
You are enrolled in an educational institution on the DLI list.

You are pursuing a full-time course/training

You have a valid study permit

You have valid documents to prove marriage or common-law partnership

Your spouse or common-law partner is of sound health and has no criminal record
Once granted, the open work permit will be valid for the same duration as your study permit. After the expiry of the study permit, you and your spouse and any dependents must leave Canada within the stipulated time of 90 days.
If you wish to extend your study or spousal work permit, you need to apply for an extension before the expiration of the existing permits. This is possible if you require more time to finish your education/training. You can also get an extension on your post-graduate work permit if you have already applied for permanent residency.
Convincing the authority for an extension on any visa or permit requires a number of documents. Contact us for expert advice.
Need Help with Spousal Work Permit?
A spousal work permit helps in bringing families closer and enables you to share the cost of studying and living in a foreign country. At beingcanada.com by Sayal Immigration Inc., we understand the importance of staying together with family and endeavour to guide our clients on the most appropriate path for their immigration to Canada. Book a session with us today to start your application. We will suggest a path that is suitable for your profile after discussing your profile with you.