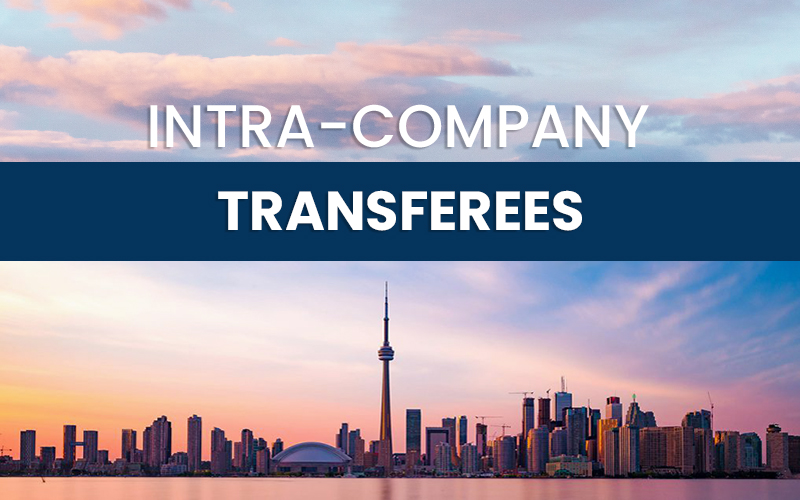 Under the International Mobility Program, Canada allows multinational companies (MNCs) to seek work permits in Canada for their employees working outside the country. This allows such employees to enter Canada under business class immigration as Intra Company Transferees. This arrangement is particularly advantageous for the MNCs that can use the experience and expertise of highly skilled foreign workers or senior managers/executives working at one of their offices outside Canada.
Secure Intra-Company Transfer (ICT) Work Permit
Intra-Company Transfer (ICT) Work Permit is a temporary or limited-duration permit that allows foreign workers employed with MNCs to work in Canada for a limited duration. ICT is a company-specific or closed work permit that allows foreign nationals to work with their company that has its parent/subsidiary/branch/affiliate company in Canada. It helps them achieve business continuity in Canada and even expand their business, backed with the specialized knowledge of certain employees or the experience of senior managers and executives.
Usually, as the first requirement, a foreign national must obtain a positive Labour Market Impact Assessment (LMIA) from a Canadian employer to apply for a work permit. The purpose is to prove that bringing the particular employee to Canada will have no negative impact on the Canadian labour force. This is where the ICT Canada work permit stands out because it enables foreign nationals to secure a work permit without an LMIA, securing which can often prove to be a costly, extended and stressful process.
Many professionals aspire to work in Canada and we take pride in having helped many in securing work permits to Canada to fulfil their career aspirations. Book a session with Sahil at Sayal Immigration Inc. to start your application without delay. After a thorough evaluation of your profile, we will be in a position to suggest the most suitable path to help you secure an ICT work permit and realize your dream to work in Canada.
Eligibility Criteria for Intra-Company Transfer Work Permit
If you want to work in Canada by securing an ICT Work Permit, you must meet the following eligibility criteria:
You must be employed with an MNC, and intend to work in Canada with the legitimate parent/subsidiary/branch/affiliate of the company.
The enterprise in Canada that you intend to work at, must have a qualifying relationship with the enterprise you are currently employed with i.e. a legitimate and continuing establishment of that company.
You must seek transfer to Canada in a senior managerial or executive position, or in a specialized knowledge capacity.
You must have been employed by the company that intends to transfer you to Canada, in a full-time job position for a minimum of one year in the three years immediately preceding the date of your ICT work permit application.
You are seeking a transfer to Canada on a temporary basis only.
Documents Required for an ICT Work Permit Application
You will need to prepare the following documents for your inter-company transfer work permit:
A confirmation that you are currently employed by an MNC outside Canada, and seeking entry into Canada to work at a parent/subsidiary/branch/affiliate of the company.
A confirmation that you have been employed in a similar position on a continuous and full-time basis by the concerned company outside Canada. It must provide complete details about your job position, which must be a managerial or executive position, or one involving specialized knowledge.
Proof that you have been employed by the concerned company for a minimum of one year on a continuous basis in the three years immediately preceding the application.
Document detailing the title, place in the organization and job description for the job position that you will assume in Canada after securing an ICT work permit.
Written information detailing the relationship between the enterprise in the foreign country and the enterprise in Canada. They must be actively engaged in providing goods and/or services.
Written information regarding the intended duration of your stay.
Select Being Canada by Sayal Immigration Inc.
At beingcanada.com by Sayal Immigration Inc., we endeavour for the success of our clients by offering them updated information regarding various Canadian immigration programs and assisting them through the application process. We understand that you must be eager to work in Canada as an Intra-company Transferee. Book a session with us to start the application process today with the expert consultation of a qualified Regulated Canadian Immigration Consultant (RCIC).