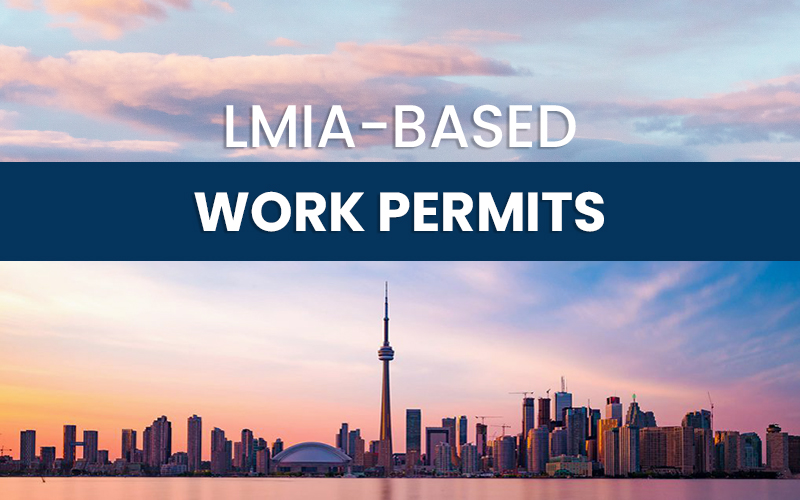 LMIA-based Work Permit for Temporary Foreign Workers in Canada
If there is a shortage of labour in the market and a Canadian employer wants to hire a foreign national, they may need a positive LMIA. LMIA or Labour Market Impact Assessment is a document that is issued by the Canadian government to an employer, allowing them to hire a temporary foreign worker. A positive LMIA, also known as the confirmation letter, implies that the employer was unable to find a worker, whether a citizen or a permanent resident, within Canada to do a particular job. Therefore, they must be allowed to hire someone outside Canada to fill the position.
With the help of a positive LMIA, a Canadian employer can extend an employment offer to a qualified foreign national. If you have received an LMIA from a Canadian employer, inviting you to work for them, it is important to check the authenticity of the documents. To know more about LMIA-based work permits and your option, get in touch with beingcanada.com, by Sayal Immigration Inc., your trusted Regulated Canadian Immigration Consultant.
What is LMIA and Do I Need One?
LMIA, previously known as Labour Market Opinion (LMO), is a certificate issued by the Canadian government to an employer after due consideration that allows Canadian citizens to hire foreign nationals who can then work on Canadian soil.
The decision regarding the status of the LMIA is made by ESDC or Economic and Social Development, Canada. Before ESDC makes the final decision, the following factors are considered:
The hiring of a foreign national only has a positive or neutral effect on the labour market.
There are no permanent residents and citizens to fill the position offered by the employer.
The employer is offering salary, benefits and working conditions to the foreign worker that meet the federal and provincial standards.
The foreign worker is bringing along the right skills and knowledge.
And other factors proving that hiring a foreign worker is the right choice for the employer and the Canadian economy at large.
If the ESDC is satisfied with the application made by the employer, it will instruct the IRCC to inform the employer and issue a positive LMIA to them.
There are certain occupations that allow temporary foreign workers to work in Canada without an LMIA and a work permit. Consult experts to know whether your occupation falls in that category or not.
How to Apply for an LMIA
The process of applying for an LMIA depends on the type of employment that you are offering. Based on the territorial/provincial median wage. There can be two categories:
High-wage Workers: Those temporary workers who are paid salaries above the territorial/provincial median wage are considered high-wage workers.
Low-wage Workers: Those temporary workers who are paid less than or at par with the territorial/provincial median wage are considered low-wage workers.
In addition to the above two categories, Canadian employers are also allowed to hire temporary foreign workers under the Seasonal Agricultural Worker Program and via Agricultural Stream.
Irrespective of the category under which you are applying for an LMIA, you must be absolutely certain that no person residing in Canada can fill the position. The ESDC is meticulous in issuing LMIAs. Employers must be ready for an inspection as well.
Hiring Using an LMIA
Once you have received a positive LMIA, you are allowed to fill the position that you are offering by hiring a temporary foreign worker. Under the Temporary Foreign Worker Program (TFWP), you can invite foreign nationals to work in Canada with you.
When you are satisfied with the personnel that you are planning to hire, you need to give them a copy of the positive LMIA, issued to you by IRCC. The temporary foreign worker will use the copy, along with other documents to apply for the work permit.
If the documents submitted by the prospective employee are accepted, they will be granted a work permit, allowing them to work for you.
LMIA Exemptions
In most cases, if a Canadian employer wants to hire a foreign worker, they need to apply for an LMIA. However, there are some exceptions where you can hire a non-Canadian without a positive Labour Market Impact Assessment, such as:
You are offering a remote position to a foreign national or you are hiring a freelancer. Since the foreign worker does not need a work permit or to enter Canada, an LMIA is not required.
You are hiring an international student who is enrolled in a full-time course in a designated learning institute in Canada. International students are allowed to work part-time for any employer without an LMIA in Canada, as long as they are meeting other criteria.
Your employee has an open work permit, allowing them to work for any employer in Canada. This may include international students with a post-graduate work permit, a work permit received after studying in Canada, spouse or common-law partners of permanent residents or citizens, and more.
You are extending an offer to a foreign national under the International Mobility Program.
There are some occupations and individuals, for example, asylum seekers and professionals working in accord with NAFTA, that are considered LMIA-exempt. To know more about these occupations, contact us and we will assist you to the best of our possibility.
Duration and Validity of an LMIA
A temporary foreign worker has to apply for a work permit within a period of six months after receiving a positive LMIA from the Canadian employer. No time extension is given in this case. As the validity of the LMIA is for six months, if the foreign worker fails to submit their application within this time frame, they will require a new LMIA.
The validity of the LMIA and the employment duration of the said LMIA are not the same. The validity states the time period, six months in a majority of cases, which is allotted to the foreign worker for procuring the work permit using the LMIA. The employment duration of the LMIA refers to the validity of the work permit that is issued by the government on the basis of the LMIA.
While the validity and the duration of an LMIA are not codependent, it is important to consult an expert to avoid any hassle. Book a session with us to know more about your options.
LMIA Processing Requirements
Any Canadian employer who wishes to submit an application for Labour Market Impact Assessment must adhere to the following advertisement requirements:
Pay a processing fee of CAD 1000/per request.
Post vacancy advertisement for jobs that can be fulfilled by English and/or French speakers.
All job vacancies should be advertised by the employer for at least four weeks. The advertisement must focus on under-represented Canadian groups as well.
Prove that they have used at least two other recruitment methods.
An attestation declaring that the employer will not lay off or reduce the working hours of workers engaged in the same position to accommodate the foreign national.
And other requirements.
Contact Licensed Members of ICCRC
An LMIA is the first step that strengthens your Canada work visa application. This time-bound document can help you in achieving your dreams but you need to be careful while using it. As a foreign national, you must ensure that the LMIA you have received is coming from the right employer and will not cause you any harm.
As licensed members of the ICCRC, Regulated Canadian Immigration Consultants can help you apply for your work permit using the LMIA in an orderly manner. Make an appointment with us today!