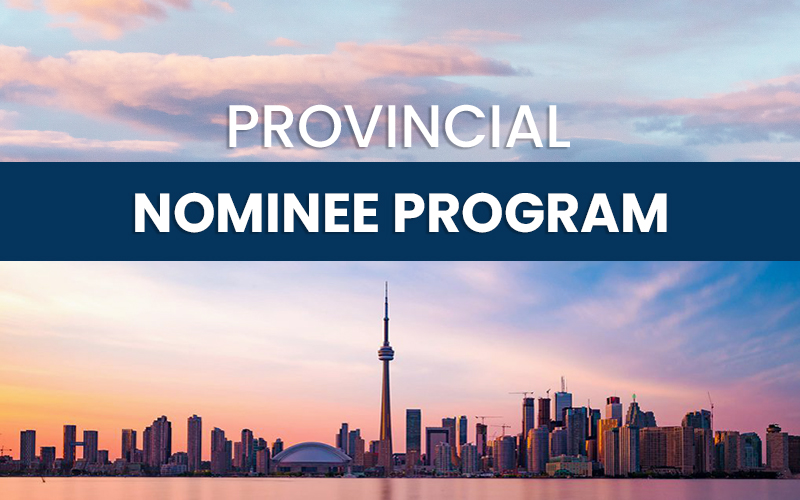 Consult RCIC for PNP Canada
The Provincial Nomination Program is an extended part of the Canadian immigration system. It was launched in 1998. Under the PNP program, skilled and educated foreign nationals who wish to settle and work in a specific province can submit an application. It is a bilateral program as it also allows provinces to send invitations to foreign nationals whom they consider more suited to their province. Whether or not you will receive an invitation from the province of your choice largely depends on your profile and the labour market requirements.
If your profile has been selected by a province, it can put you ahead of others in the Express Entry pool as you get extra points. Many provinces endorse this program, each with different expectations. Consult with our experts to know which province is best suited for your profile. Along with guiding you through the process, we will also keep you updated with the latest Canada PNP news.
Why PNP was Launched?
Before 1998, a majority of immigrants would settle in the major cities of Canada such as; British Columbia, Ontario and Quebec. PNP or the Provincial Nomination Program was launched with the idea of extending the benefits of immigration across the country. There has been a significant shift in the distribution of immigrants across Canada because of the success of this program.
PNP allows all the provinces and territories, except for Nunavut and Quebec, to invite foreign nationals who have shown interest in settling in a particular province as permanent residents. They can create their selection criteria under this program but need to ensure that at least one of the immigration schemes launched by them is aligned with the Express Entry program.
Benefits of PNP
Looking at the latest express entry draw, it is safe to assume that Canada has more expectations from new immigrants. Applicants with higher CRS scores are more likely to receive their ITAs quickly. However, a PNP nomination offers you various benefits that you can leverage.
Here are some of the benefits PNP stream:
Once you become a part of the enhanced PNP stream, you get additional 600 points that are added to your CRS score. This will definitely win you the permanent residency invitation if you are otherwise eligible.
In some cases, employers of a province directly nominate a foreign national. If the province approves their suggestion, you may enjoy the expedited process of getting PR.
The federal government will process your application quickly. You are likely to get your PR status approved within 6 months.
You have the option to apply for PNP under a 'base' stream. If selected, the federal government will process your application for permanent residency.
PNP Application Process
PNP application process largely depends on the stream and the province that you have selected. Both paper-based and online processes are available. You can choose either. However, you must ensure that you have passed the mandatory medical exam and have a valid police verification certificate before you fill your application.
Paper-based Process
Your application is directly submitted for Canada PNP. It is separate from the Express Entry stream.
The minimum eligibility requirement of your chosen province is met by you.
You have to submit a paper application after you have received your nomination from the province.
Online Process
This process is aligned with the Express Entry. You can do either of the following:
Create an Express Entry profile and show provinces or territories that you are interested in settling there.
You can directly contact the provinces or territories. If they agree to it, you can then create an Express Entry profile and apply for PR.
You are required to pay application fees, biometric fees and other third-party fees irrespective of your choice of application process. The above stated are general steps that you need to follow but, you must keep in mind that filling a PNP application is a mammoth task. Your details must be absolutely accurate. Not even a single punctuation error will be forgiven. To avoid rejection due to incorrect or incomplete information and the subsequent wastage of money, it is better to leave the taks to the experts. Contact us and we will make the task easier for you.
Participating Provinces and Territories
Alberta (AINP)
British Columbia (BC PNP)
Manitoba (MPNP)
New Brunswick (NBPNP)
Newfoundland and Labrador (NLPNP)
Nova Scotia (NSNP)
Ontario (OINP)
Prince Edward Island (PEI PNP)
Saskatchewan (SINP)
Northwest Territories (NTNP)
Yukon (YNP)
Consult with Us
PNP is a great initiative taken by the Canadian government that allows less famous provinces and territories to benefit from the immigration program. It also creates new pathways for permanent residency aspirants. Before you submit your application for the program, it is important to check your eligibility and the intent of choosing the province. It is also mandatory to have all the necessary documents handy when you are filling out your application. Let Regulated Canadian Immigration Consultant (RCIC) at beingcanada.com by Sayal Immigration Inc. give you the right consultation. Book a session with us to know more about your options.