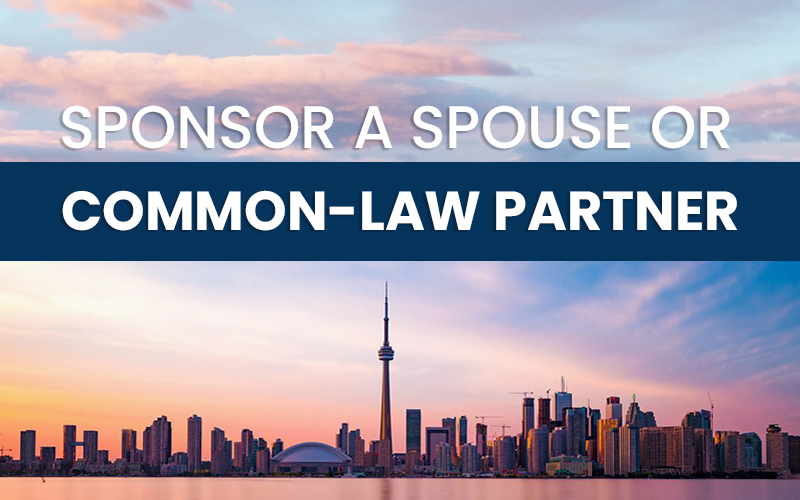 Sponsor a Spouse or Common-Law Partner in Canada
As part of the immigration scheme, spousal sponsorship allows partners and common-law partners of Canadian permanent residents and/or international students to immigrate to Canada. If you are a Canadian citizen or a PR holder and your spouse or common-law partner is a foreign national, you can sponsor them. Canada's family sponsorship program not only brings families closer but allows the government to invite immigrants with established relationships and contacts in the country. Such immigrants have a better chance of building a good life at an accelerated rate.
While spousal sponsorship is a great initiative of the Canadian government, it is not always easy to procure. If you want to sponsor a spouse or common-law partner, and you would like them to join you in Canada without any delays caused due to technicalities and paperwork, it is always better to consult a Regulated Canadian Immigration Consultant. Book a session with beingcanada.com by Sayal Immigration Inc. to ensure that you and your partner are on the right path.
Spousal Sponsorship
A Canadian permanent resident or citizen has the right to sponsor their partner, who is a foreign national, to become a permanent resident of Canada. This right was granted by the government to improve Canada's family immigration quota. The sponsorship can be extended to a spouse, a common-law partner or a conjugal partner. This can be done through visa outland sponsorship or inland sponsorship.
Outland Sponsorship
This course of sponsorship is executed when the sponsor is residing in Canada while the partner is living in a different country. In this case, the sponsor (the one residing in Canada) must remain in Canada during the course of the application but the partner can enter or exit Canada given that they have the right visa or they are from a visa-free country.
The outland sponsorship visa is processed by the visa officer of the applicant's country of origin. You can also get the visa processed from a different country if you have been residing there for one year or more.
Inland Sponsorship
Inland sponsorship is available for couples where the sponsor and the applicant are both residing in Canada. The applicant should have temporary status. They could be a visitor, student or a worker. In this case, the application is processed from within Canada and the sponsor and the applicant have to live together during the process.
Canada Spouse Sponsorship Eligibility
Eligibility criteria for the sponsor:
You must be at least 18 years old.

You must be a Canadian citizen/

Canadian permanent resident

or registered under the

Canadian Indian Act

.

You are either residing in Canada or you are a citizen returning to Canada.

You are capable of taking care of the basic needs of your partner and dependent children, if any, which includes housing, utilities, food, clothing, medical expenses, and other necessary items required for basic living.

Other than a disability, you do not receive any social assistance.
Eligibility criteria for the applicant:
You must be at least 18 years old.

You must pass all security and background checks.

You must pass the medical exam.

You must be in an authentic relationship with the sponsor. You must belong to one of the three categories:
Spouse:

You and the sponsor are legally married.

Common-law partner:

You are currently living with your partner or have lived with them in a marriage-like partnership. This duration must be 12-months long, without any gaps

Conjugal partner:

You and your sponsor must have been in a committed relationship for at least 12 months. You have been unable to live together due to situations beyond your control, for example, religious or cultural differences or immigration barriers.
Financial Requirements for Spouse Sponsorship
Unlike other permanent residency pathways under the Express Entry system like FSWP, the financial requirements for a Canadian spouse visa are different. Before granting the permanent residency to your partner, the authorities will ensure that you are financially capable of taking care of them or dependent children, should there be any. 
Before the process of Canada family sponsorship is initiated, the sponsor is obligated to adhere to the undertaking that they will look after the basic needs of their partner and accompanying children, if any. This undertaking lasts for 3 years since the day your partner is granted permanent resident status. Once IRCC has approved the sponsorship application, you will be bound to this undertaking. As you cannot change or cancel this undertaking irrespective of your relationship or financial status, you must be absolutely certain about your decision. 
The application fees and proof of funds depend on provinces as well. To know more about how much funds are required for sponsoring a partner, contact beingcanada.com by Sayal Immigration Inc. We will help you navigate through the application process by providing you comprehensive information.
Sayal Immigration Inc. for Right Consultation
Our ICCRC branding ensures that we comply with all the rules established by IRCC. We strive to keep ourselves updated with the latest Canadian immigration rules and regulations to guide our clients in the right direction. We understand that you must be looking forward to living with your spouse in Canada as a permanent resident. At beingcanada.com by Sayal Immigration Inc., our goal is to bring families together. Book a session with us and start your application process today.