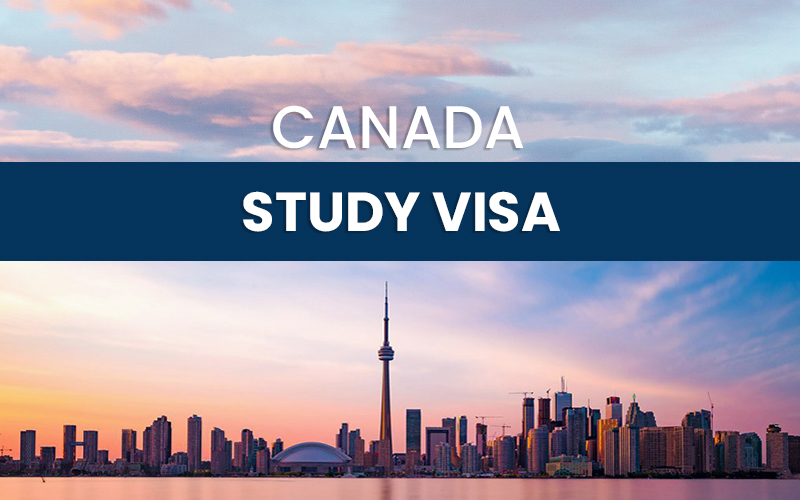 Canada Study Permit for International Students
For decades, Canada has attracted many international students. The country has one of the most educated populations in the world and its learning institutes often rank higher as compared to other countries. IRCC reports that every year Canadian institutes give admission to an increased number of international students.
Not only does Canada offer quality education, but the country also has some of the best programs for international students that aim at making their stay pleasant. International students in Canada enjoy various perks, like healthcare facilities, part-time employment options and more.
If you are an international student who wants to study in Canada, you need to acquire a student visa, officially known as a study permit.
Getting a student visa for Canada is a dream of many. However, before you apply for one, you must be clear about your purpose. In addition to that, not every international student needs a study permit. To know more about Canadian study permits, consult beingcanada.com by Sayal Immigration Inc. Our expert consultant will you in understanding your best options and tell you all the advantages of a Canada study visa.
Why Study in Canada?
Studying in Canada opens doors to a lot of opportunities. In addition to offering great infrastructure, highly-educated faculty and well-structured courses in all the fields, getting Canadian education can help you significantly if you are planning to immigrate to this country. However, these advantages are available only if you are registered in a full-time study program at a designated learning institute for at least one year.
Here is why you should study in Canada as an international student:
Excellent growth opportunities
Additional points that will increase your CRS score
Opportunity to bring along an accompanying spouse and/or minor children
Open work permit for the accompanying spouse in some cases
Canadian elementary school education for the minor child in some cases
Ease of getting a post-graduate work permit, also known as PGWP.
Ability to apply for PR under CEC.
Likely to receive PNP and RNIP nominations.
Before you plan on becoming an international Canada student, it is better to consult with a Regulated Canadian Immigration Consultant (RCIC) to understand all the options and opportunities available for your profile.
How to Get a Canada Study Permit?
Before you apply for a Canada study permit, you must have a letter of acceptance from a Canadian college, university or institute. Once you have received it, you should apply for your study visa because the study permit processing time in Canada varies. Delays may happen due to internal errors, application overload, busy schedules, technical difficulties and more.
Here is a list of documents required for a Canada student visa:
Letter of acceptance for a college or university on the DIL list.
Proof of funds covering the first year of tuition, living expenses and return transportation to their respective country.
Certificat d'acceptation du Quebec (Quebec Acceptance Certificate, or CAQ) if you are planning to study in Montreal or anywhere in Quebec.
A clear criminal background. In some cases, a police clearance certificate may be required.
A complete medical examination test and a Statement of Purpose or SOP.
In some cases, the following documents may also be required:
Passport of the applicant and accompanying family members.
Two passport-size photos with full names and DOB written on the back of the applicant and accompanying family members.
If applicable, a copy of the marriage certificate.
And other documents as requested by the visa officer.
Student Direct Stream (SDS)
Canada has a fast-track option for processing study permits of applicants from some selected countries. You are eligible to apply for your Canada study permit through SDS if you live in one of the following countries:
China
India
Morocco
Pakistan
Senegal
The Philippines
Vietnam
If you submit an online SDS application, in most cases, you will get your study permit within 20 business days.
While residents of the abovementioned countries are eligible for Student Direct Stream, there are a number of other terms and conditions that you must meet. Contact us to know more about SDS.
Fund Requirements for Canada Study Permit
Every international student has to produce proof of funds while submitting their study permit application. Your funds should be enough to cover your first year's tuition fees, living expenses and return ticket to your home country. If any family member is accompanying you, then you must have enough funds to support them as well.
The following are considered proof of funds by IRCC:
A GIC (Guaranteed Investment Certificate) certificate from a Canadian financial institution.
Documents of education loan from a bank or any other authorized financial institution.
Canadian bank account statement in your name.
Your home country's bank statement of the past four months.
Proof showing you have paid your tuition and accommodation fees.
And more.
The minimum requirement of proof of funds depends on the length of your course, the accompanying family members and more. If you are planning to study in Quebec, the minimum funds requirement will be different. Book a consultation with us and we will be happy to discuss everything in detail with you.
Letter of Introduction
Once your application has been accepted, you will receive a Letter of Introduction or LOI. This letter will confirm the approval of your application. This is not your study permit but allows you entry into Canada. Upon arrival, you have to present this letter to the immigration officials at the airport. The official may ask you a few questions. Once they are satisfied, a Canada study permit will be issued to you.
Not every prospective student receives a LOI. in some cases, a Temporary Resident Visa (TRV) is also issued. Your application and your home country will decide which one will you receive.
Renewal of Canadian Study Permit
Once you have officially received your Canada study permit, you can change or renew it before it expires. The conditions, however, will depend on individual cases.
If you are enrolled in a post-secondary institution and have decided to transfer to a different institute or change your course, you don't need to apply for a different or fresh study permit. You only need to update IRCC about your decision. As long as your study visa is valid, you can remain in Canada and pursue further studies if the level of education is the same.
For example, if you are doing Masters in Business Administration but have decided to change your major to Economics/Geography or any other field, you can do so by informing IRCC. A new study permit is not required. If, however, you are moving from high school to college, you have to apply for a change in your present study permit's conditions.
We are Here to Guide You
Getting a Canadian Study Permit is a dream of many international students. It can lay a strong foundation for your career and improve your prospects of being a Canadian Permanent Resident. While a Canadian study visa can certainly present a number of opportunities to you, there are many things that you need to take into consideration. For example, if your aim is to get a PGWP, you need to be enrolled at a designated learning institute for a full-time course. The length of the course should not be less than 12 months.
Beingcanada.com by Sayal Immigration Inc. has consultants registered with ICCRC. Our aim is to provide you with accurate information. A Canadian study permit can be very beneficial for international students. We will help you in understanding your possible actions and options. Contact us to know more.